RESUME
As an artist and quite active and curious person, I've always been grewing many things in the same time. So, training and experiences was most of the time… in the same time. No break, just a continuity of different experiences, depending of my enconters, proposals, the reality of the life in our (economical) system… and where I was in the world.

It is important to say that I've seen many art exhibitions (painting, photography, visual arts…), and thousand of performances : theatre, dance and opera, in France and overseas. I've always considered it has an important part of my work, for my critical spirit development and for inspiration. It's also a good way of supporting art, especially when It's endanger by some political choices and visions…

---

EXPERIENCES

---

HEALING

January 2018: Opening of Leiya and Naoshi healing clinic (Uenohara, Fujino, Hachioji, Tokyo).

Every wednesday february 2018 : HEALING CIRCLE at Polaaris, in Hachioji (hypnosis+sonotherapy with crystal ball and tuning forks)

31st January 2018 : FULL MOON PARTY at Polaaris (hypnotherapy+sonotherapy and free healing dance+ambiant DJ)

20th january 2018: HEALING DAY EVENT (kinesiology and sonotherapy) + HEALING CONCERT at Nerima, Hitoshi Teramoto's healing space.

From mai 2017 : HEALING SHOP at Fujino BIO Market every 1st and 3rd tuesday of the month (kinesiology, reiki, Thai-yoga massage, Philippin's healing) + sell of home made organic jam and organic detergent.

DANCER – ACTRESS

RAKUDOAN GALLERY – SINCERITE GALLERY

2017-2018 : Various performance with my poetry reading acting and dance. With the shakuhachi player Hideo, the calligraph Setsuhi Shiraishi, shougen, the kodo player Tsugumi Yamamoto, the painter Nanako Kamimura…

GREEN HOUSE

2017-2018 : Performances and improvisation in collaboration with musician, DJ, dancer, fire dancer, circus artist…

KAZAN OFFICE

dec 2015-2016 : Actress dancer in the dance and theatre artistic creation : "NEGAU", Tokyo- Japan, 12 to 14/02/2015, Galery Art chiyoda 3331. Contribution to promotion-diffusion work. Stage manager for the theater dance compagny of Hiroshi Koike during the performing art festival in San Francisco in mai 2017.

BAROCCO PROJECT

2013-2014 : Actress-dancer ont the instant creation project"Barocco Show", an audiovisuel experience including music, projection, and dance. Creation of a dvd based on the residence work, and performance on festivals in France.

COMPANY YALISAI

2009-2014 : Artistic direction, dancer-choreographer, administration and production.

Creation and production of the performances : "Bellywood show", "Danse du monde", "Indian Magic", "Pleine lune", "Lève toi ou crève".

MORENA MEDIEVAL DANCE COMPANY

2013-2014 : Dancer choreographer, production and promotion of the company.

FREE LANCE ARTIST

2003-2015 : Dancer-actress in France and abroad, in solo or compagny : wedding, professionnal exhibitions, end's day, private events, festival, politic events…

In particular :

Tokyo, Japan : Sufi inspired performance, Sali's end of the year show (Tilta oriental dance compagny) a charity show in order to send founding to people to recover from the last huge hearthquake in Japan.
Perth, Australie : festival Wamed. Dancer actress in the performance "Hammam" of Belyssa Danse Academy, and a solo one's in the "Grand bazard" of the festival.
Perth, Australie : International art festival, performance with "Beleza" afro-brazilian's music and dance.
Athène, Grèce : dance performance against the raising of fascisme in 2010 with the singer Elderdiery Fadul
Lozanne, Suisse, and in the Cabourg casino, France : performance with the indian dance compagny Bollywood-Passion
France, performance orientalist retro, Singapour Sleaze event organized by "Machina Vapora"
Lyon, France : burlesque night "Toutes à poele", theatrical burlesque dance performance "little balinese in Paris".

Région Rhône alpes : ambulatory dance with musicians with disabled adults.

Lyon, France : Industry profesional lounge, ambulatory show with musicians.

Rhône- Alpes, France : dancing character on the adaptation of "Twelfth night", Shakespeare,
Mis en scène par Olivier Mocellin – Cie Thespis

Dance theatrical burlesque, world dance : tzigane (turkey, kalbelya, flamenco, romania), orientale, central asia, bollywood, samba, afro-brazilian, cabaret, fire poi and dance

DANCE INSTRUCTOR

2006-2014 :

weekly and private class – World dance with a personal development and well being aspect : oriental dances (traditional, contemporary, fusion), tziganes dance, greek/turkish dance repertory, central asian dances, indian (bollywood with traditional indian dance initiation).

Creation of a dance student company : choreographer and organizer of performances for many events.

Organizer and choreographer of performances and conferences serving the purpuse of informing, fighting against ignorance and confusions, and opening minds to different cultures by allowing their understanding.

Organisation of workshops (France, Australia, India, Japan) with the aim of promoting tziganes culture's, middle eastern's and balkan's, indian's, sufi and meditative's dance, "Dance of the heart" (instant creation based on listening to each other, the research of organic's movements, and some contemporary dance technics)…

ART AND LANGAGE TEACHER

December 2016 : Volonter teacher at "Didi's school", an orphelina in Bodhgaya, India (kalbelya workshop, singing class in french, english debat with 3 others volonters)

From december 2016 to march 2017 : Art teacher (painting, drawing, body expression) at "Fairy Tail", bilingual nursery school.

From april to december 2016 : Art craft and langage teacher in song and stories at "TAP Takanawa Children Junior High / High School Plaza". Teaching art craft to elementary school students, nursery teacher, performing a french and an english class in song and story for mother and kids from 0 to 6 years old, french reading books in french and translation in japonese for 4-5 years old kids at Takanawa library, organizing event's animation such as face make-up for Halloween, participating to sports activities with junior high/high school students, help with their langage homework…
---
TRAINING
---
THEATER
 ROBERT CASTEL – Compagnie de la méthode, 2012 – 2013
Strasberg institut method of acting : practice of relaxation and development of the sensory memory. Intense training of twice 3 weeks. Work on scene, by two, and a monologue, in English and in French.
PREMIER ACTE – Dramatic arts, 2011 – 2012
Acting (classical and modern repertory), Mime (Adrien Tringlian), mask, comedia del Arte, clown, Voice practice (Roy art theatre), Singing, Dance, Scenic movement (Vladimir Granov), Kathakali (Annie Roumani), Administration-production, theatre history, creation of short play, presentation of our work during the quarterly evaluation.
ATRE – Dramatic arts and theatre teaching, 2010 – 2011
Professionnalizing section.
– Acting (Grazziela Horens) modern repertory/ Teaching theatre (Alain Robert Mas, Grazziela Horens) / Tchi Clown (Edmon Morsilli) / Singing (Charles Bianco) / Body and voice (Akhmatova Samuels, Roy Art Theatre) / Dance (Lila Nett, Josiane Charriau) / Feldenkreis (Josiane Charriau) / Shakespeare study (Alain Maratra) / Production and administration
Performance at the "little theatre of la Croix Rousse" – Adaptation of "Twelfth Night" Shakespeare, Rôle : Viola.
After the training, professional experiences:
mai 2011 – juin 2011: "Cie Broutille" promotion-communication-diffusion, technician assistant (light installation), stage assistant during amateurs classes, in charge of the warming up of the cie rehearsals, note making (stage direction assistant).
mai 2011 : Assistant in the instalation of the decor and the artistic light installation of an artiste from Lyon during the festival Utopiste in the "Théâtre des Célestins", Lyon.
LEVEE DE RIDEAUX – Creation of dramatic art's plays, 2008 – Actress : "The venetians twins", Goldoni – Cie Levée de Rideau – Role: Béatrice
Performance at the Hôtel dieu during a week. In partnership with the association "clown in hospitals"
GILLES DROULEZ – 2005-2006 – Dramatic arts class and creations in the theatre le "Carré 30", Lyon : "1 2 3 Richard" direction by Gilles Droulez – Role: Anne 
JEANINE BERDIN – Private school of dramatics arts, 2003 – 2004 – "La sauvage", Jean Anouilh
LYCEE ST JUST – Baccalauréat Littéraire, Option lourde théâtre, 2000 – 2003
Acting (classical and modern repertory) , body and voice with Mireille Antoine from the Roy Art Theatre, Mme J.Sondaz, and Philippe Mangenot for the study of Vinavers (Théâtre des Ateliers, Lyon).
Performance in the "Théâtre du Point du jour" during a young actor's festival.
Work on "Ruy Blas", "Hedda Gabler", "Vinavert"… and up to 3 times a week in the theatre to watch performances.
DANSE CONTEMPORAINE
CND LYON, oct 2013 – juin 2014, sept – novembre 2015
ERD : Regular training of the dancer (contemporary, ballet)
CLASSE DE COMPAGNIE, HALLET EGHAYAN, 2012 – 2013
Contemporary dance (english method) and Ballet (Pascale Doye), musical education, education of a good body placement with stretching and a safe preparation for the class.
 "SAFE"METHODE – Alexandre Munz de la Caffinière, 2010 – 2013
Contemporary dance – Streching of the 'body laterals crossed chains'.
Participation to many workshops with Alexandre de la Caffinière during the development of his SAFE® méthod in Paris.
It allowed the body a better proprioception, understanding of the mouvement, in the respect of the body.
LUCIA PETROVA – Jeune Ballet de Villeurbanne , 2011 – 2012
Balet, Russian technic
LES ATELIERS DESMAÉ – Kilina Crémona, 2009 – 2012
Contemporary dance (Merce Cunningham)
Regular class, workshop about choreography and creative work
LES ACHARNES / Pierre Doussain, 2007 – 2013
Pierre Doussain's technics, group improvisation, work on the solo, workshops and intensive sessions, performances to present the work in process.
JAZZ 
Serge Piers school, 2006 – 2008
WORLD DANCES
Many teacher in France and learning experiences during my travels, 2002 – 2014
TZIGANE (Kalkelya, Rom de Turquie, Flamenco, Rom de Roumanie)
ORIENTAL TRADITIONAL DANCES (Egypte, Balkan, Grecques, Turc, Macedonie, Central asia, Persian et Afghan, Nord-african)
INDIENNES (Kathak, Baratanatyam, Odissi, Bollywood)
FLAMENCO (Dance, singing, Palmas, Cajon)
TAHITIAN (French Polynesia)
BALINESE
AFRICAN (benin, guinea)
MONGOLIA
SUFI and many trans dance and meditative dances
Samba, Afro-Brazilians, Rock, latines dances…
Currently, I learn Nihonbuyo, traditional japonese dance with my teacher Sengiku Bando, in Tokyo, and I go frequently to some kabuki an Nô theatre play.
TEACHER TRAINING : TRADITIONAL ORIENTAL DANCES
Learning with two teacher in parallele during two different training, 2009 – 2010
Khaled Seif – Dancer (Egypte, Suisse) : Teaching dance and technic of the oriental egyptians dances, history and origin.
Hadia – Dancer and therapist (Canada) : Teaching middle eastern dance, movement analysis, anatomy
HIP-HOP
CIE SUBTERFUGE, 2012 – 2013 (Guillaume Lapasset)
MJC St Martin-en-Haut, 1998-2000
HEALING – WELL-BEING
KINESIOLOGY (One Brain, Touch for health, 

Stress Release, Brain Gym)
ESPACE KINESIO Lyon, 2012 – 2013
Accompagniement of the person to a better being by the harmonisation of the energetic, physical, psychical, emotional imbalanced, by the identification of the stress at the origin.
Utilisation of many method, including the chinese energetic, synchronisation of the movements of the lower and upper limbs, soft stimulation of reflex zone of the skin, «EMDR»…
Harmonie Versoy, 2012 – 2013
Healing energetic japonese method, banch of Dr Mikao Usui
Bring general well being, inner peace, release of sufferness, harmony…
Thailand, Chiang-mai, TMT school, 2009 : thai massage lie down and sit.
BTS ESTHETIQUE COSMETIQUE, ET SPECIALISATION MAQUILLAGE PRO, 2006
Diploma of higher education intended for the management in beauty institut, spa and thalassotherapy, parapharmacies, animations for the advertising cosmetic products…
Cosmetology, selling, marketing, economy, managment, right, physics, general and skin biology, make-up, face and body care, nail care.
Make-up specialization, Sup'maq professionnal school, 2005 – 2006
Beauty, fasion, historical make-up, stage, SFX, hairpiece and wigs fitting.
SFX professionnal workshop on translucent materials (Jérôme Jardin, ITM Paris), 2008
"Studio hairdressing" professional workshop for fashion professions (Sup'maq), 2009
---
RESEARCH
---
I have been engaged in research about cultures, arts and traditions in different countries
for over ten years. I've been interested in population movement, musical instruments, dance, theatre and the position of art in society. Amongst them, I have especially taken an interest in the Tsiganes Roms (Turkey, Kalbelia, Romania, Flamenco) and silk road dances, including Persian, central Asian, Middle Eastern, the Balkans and Indian (Kathak, Bharatanatyam) dance.
In 2012 I was in Peru, Bolivia, then Mexico and Guatemala to learn about Incas and Mayas, and about the culture in this two latin american's area, especially about believing by visiting many archeological and sacred sites, and by meeting interesting people from many areas.
In 2014-2015, I conducted research into aboriginal cultures, living in Australia, then New Zealand and finally French Polynesia. After a funy set of circumstances since my arrival at Darwin, Australia, I took the opportunity to work in a Safari Camp in the middle of arnhem aboriginal land, Northern Territory. The camp was settle in a very remote place, around Mount Borradaile, not far (Aussie distance!) from the aboriginal community Oanpali, the closest city being 5h away (Darwin) accessible only by plane in the rainy season. Over there was plenty of aboriginal sites with rock painting old from 40 to 60000 years, and some sacred sites where some ceremonies used to take place. I've been interested in the aboriginal knowledge about plants as well (healing, edible), ancestrales believing, stories… and then, I kept going in New Zeland, to finish with French Polynesia were I met really amazing people who taught me so much about their old culture…
I am currently learning Nihon Buyo, traditional japonese dance, with Senkiko Bando.
I am also researching about Buto at the Hijikata Tatsumi Archive at Keio University in Tokyo, and take regular Buto class with Yoshito Ohno, Natsu Nakajima, Yuri Nagaoka and Seisaku, and of course by myself in nature. I get lots of inspiration from this practice for my creative work process, and that influence all my curent project.
---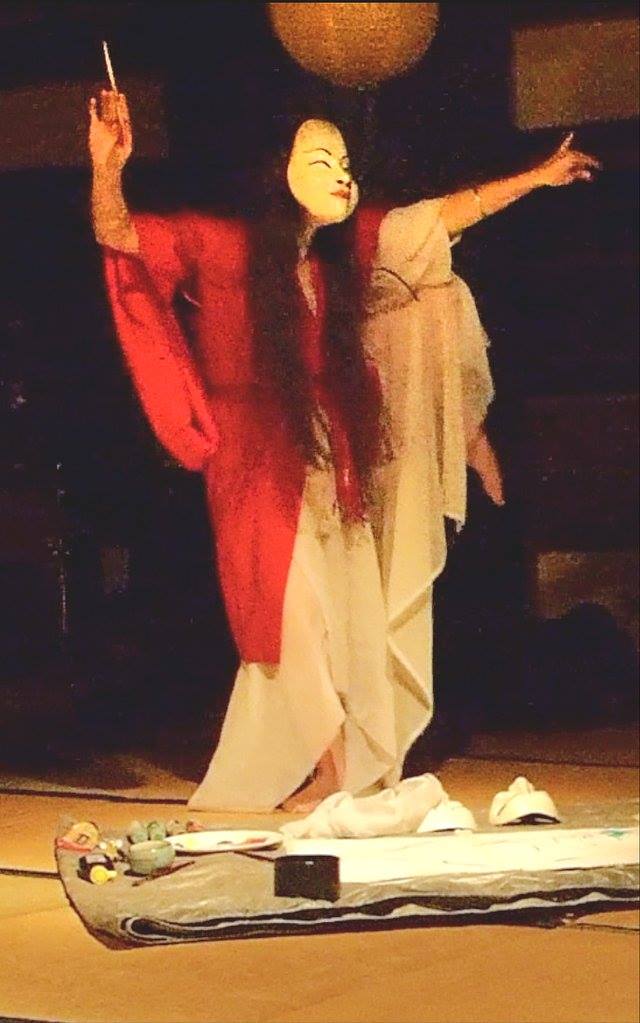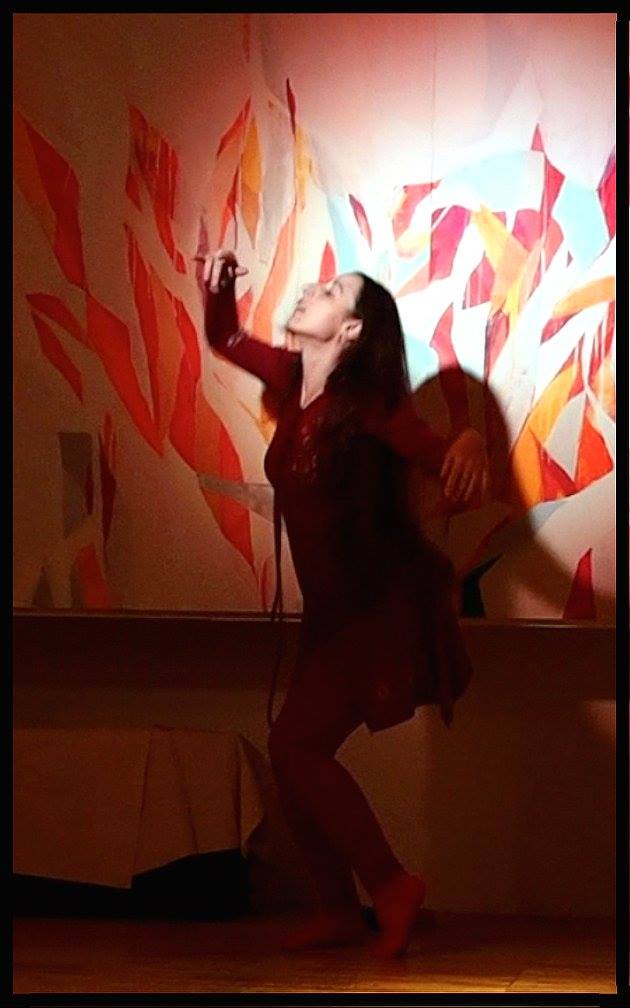 " Feeling with my heart, experiment a travel out of time and space, dive into somebody else universe who has something to say, to teach or to express…. This is what I like in art. Whatever I rich with mine, I do my best everyday, express my life energy and share it, and I am even more happy if you are ! I can't change the world but I can plant seeds in mine. I often feel that I do not really create by myself, but that I receive something, and I only help to crystallize it in matter. When it is not the case, I feel unsatisfied : it is like I lied to the divin and created with my ego without any connection".
---