HYPNOSIS and SOUND
 HYPNOSIS / SONOTHERAPY
With Leiya, or Leiya and Naoshi.
(See Workshop tab for group sessions)
For taking your appointment :
otominamaste@gmail.com
+81 (0) 80 2261 3195
Hypnosis sessions can be done in French, English, Japanese and Spanish.
Before the session :
When you send us an email to make an appointment, we thanks you to specify the langage and the subject you want to work on, your goal or what you want to change. Leiya take a special care to adapt the hypnosis especially for you.
Technics : 
It is based on the principle of positive mind integration and it helps to transform your old mind pattern in order to facilitate a new way of thinking, acting and behaving. This is a very soft way to work on yourself, and you are free to change position, come back to the conscience, go traveling again in the subconscience… Trust your brain, it will select exactly what is needed for you during this dream time! Leiya has a very special and unique way of writing and guiding your session : she used various knowledge she got during her training in kinesiology, her own professional experience, and many old ancien knowledge she received by people from many tribes she met during her years of traveling all around the world. Indeed, she spent years of research about the human beings and the various existing way of healing where the occidental medicine is/was not developped such as Arhnem land in Australia, Siquijor in Philippins, Benin, India… When she guides the sessions, she generally channel and write the story in the same time she talk to you, and receive visualisations as soon as she is in contact with your soul. But in order to make sure the words are appropriate, especially in Japanese, which is the last language she has learned, she asks you to talk to her a little about yourself beforehand and the reason that leads you to experience hypnotherapy to connect to you remotely, write it and correct it. If you experience it for the first time and want to have an idea, it is a bit like a guided meditation.
About the session :
You remind us the reason of your venue and the subject you want to transform in your life. Lie down comfortably on the massage table, slide under the warm blanket, and let yourself be transported to the gentle sound of Leiya's voice and the healing sounds that envelop you such as bowls of crystal, Tibetan bowls, tuning forks, tank drum … It will start with a guided meditation to relax your body and your mind thanks to breathing and visualisation. Some people fall asleep very fast, others like to follow the story for a while, between the conscience and the inconscience. The messages will pass softly in your unconscious. Leiya will then take you back into the consciousness gently and then leave you a time of integration and return to the space / time present.
Effects : 
Release of physical and emotional tensions. Energy balancing of the body and soul cleansing. Integration of deep positive change in your life.
Duration and price :
With Leiya, who will guide your travel in your subconscience, and create a sound environment at the beginning and at the end of the session.
Leiya will focus on guiding meditation and Naoshi will create the sound environment with various tuning forks and crystal bowl throughout the session.
---
HEALING CONCERT
With Leiya and Naoshi 
+ punctual guest presence.

Instruments : crystal bowl, Tibetan bowl, tuning fork, voice, tank drum, didgeridoo, etc
Effects : Intense relaxation and deep energy cleansing.
You can decide to host the concert at home: Reiki energy and vibratory waves clean the "ki" of your home.
Thanks to contact us in private : price depend of location, number of artist, event… _/|\_
---
SONOTHERAPY
Avec Naoshi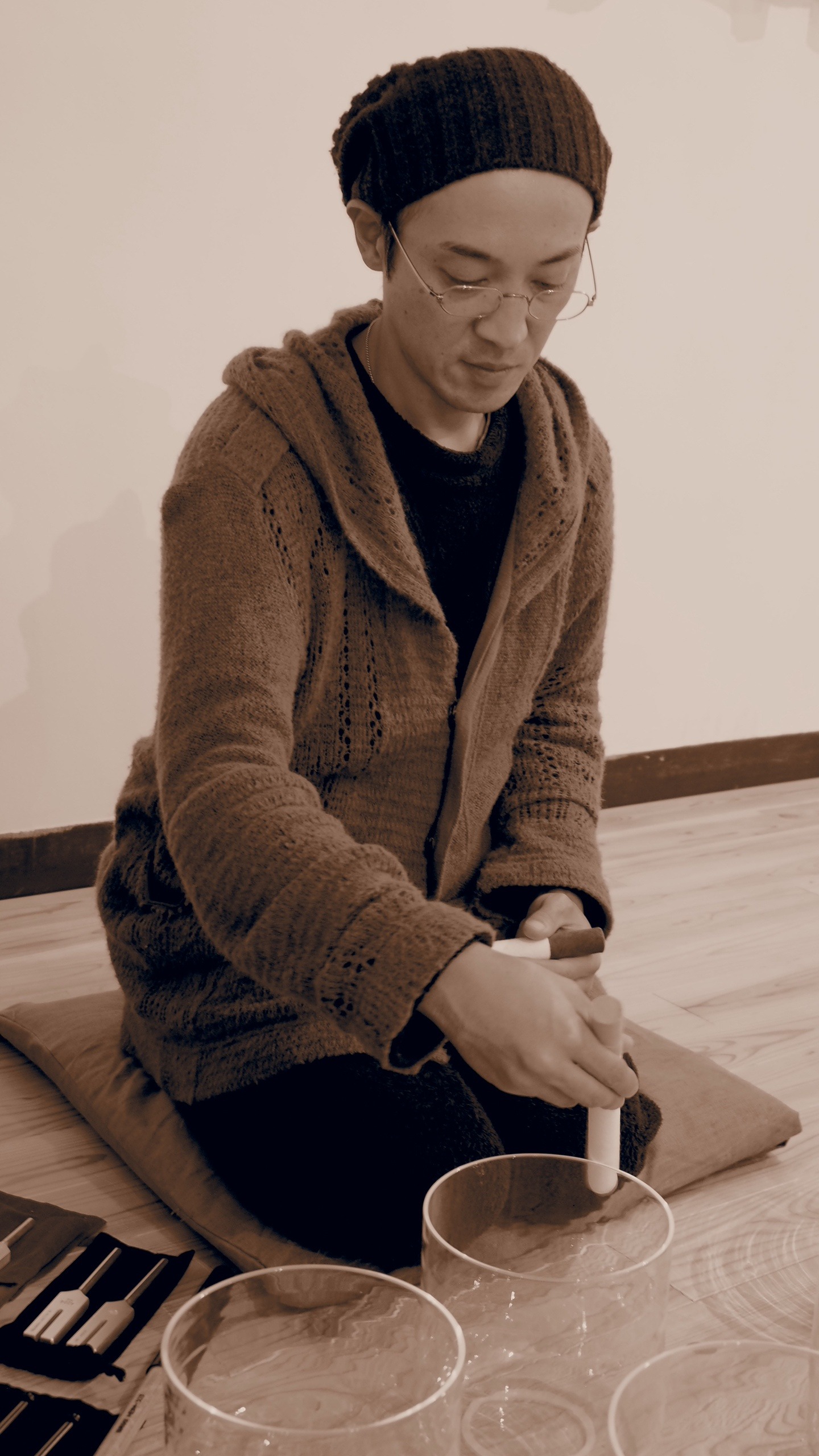 Sit comfortably on the massage table and under the heated blanket and relax. With the help of crystal bowls, Tibetan bowl and tuning fork, your body will come into resonance and the sound will treat what needs to be treated. When healing, certain areas of your body will also be "massaged" using the appropriate tuning forks on acupressure points.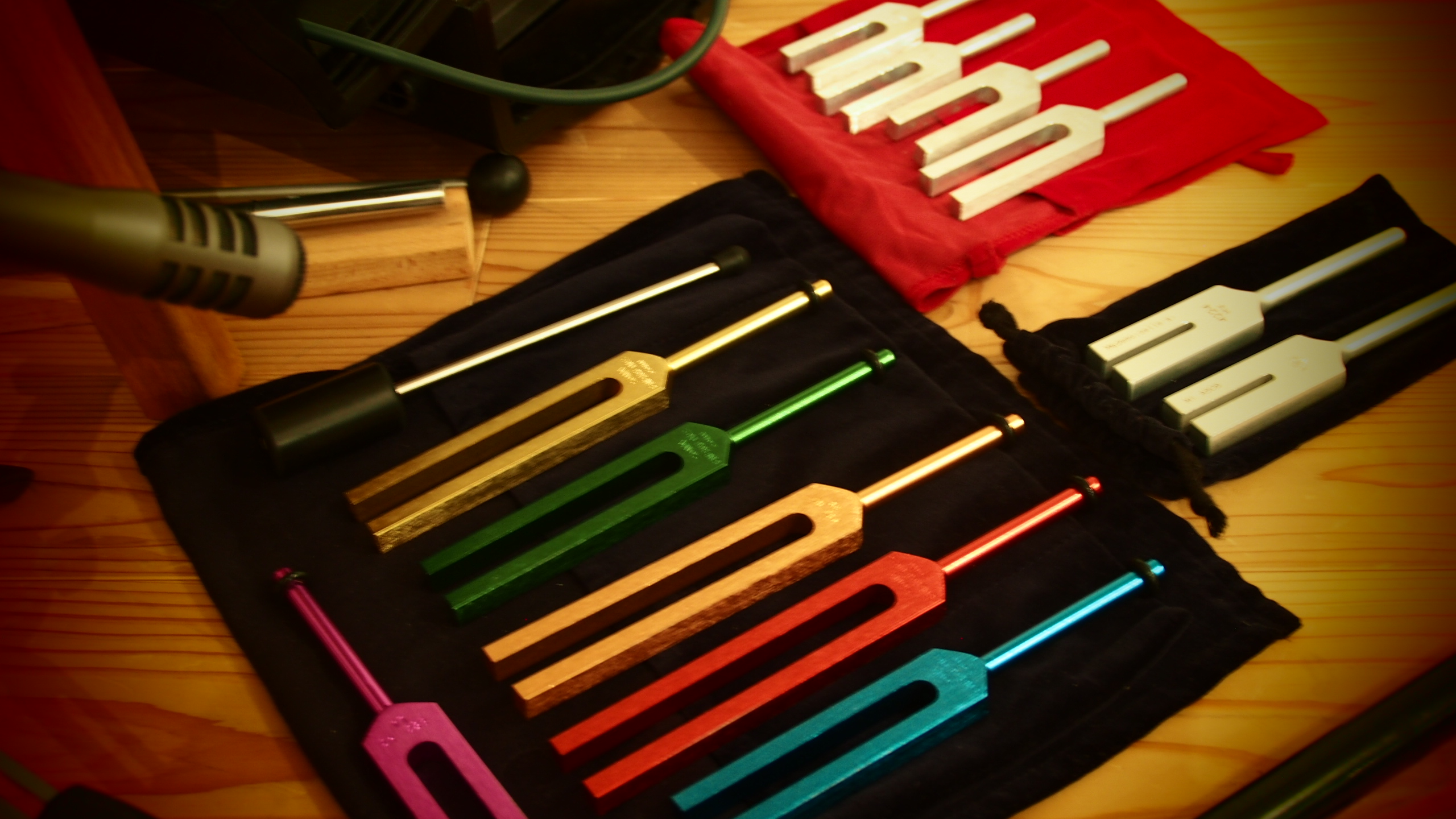 Duration and price :
30 min : ¥ 4000 / 30€
60 min : ¥ 7000 / 55€
90 min : ¥ 11000 / 85€